Company Introduction
Established in July 2013, Zhejiang Qianjiang Robot Co., LTD is a subsidiary of AISHIDA Co., LTD. (Stock code: 002403). It is a high-tech industrial robot enterprise with independent intellectual property rights and core technology. As one of the largest industrial robot main body manufacturing enterprises in Zhejiang province, it was named Zhejiang province key enterprise research institute. China welding association had set up welding training base (Taizhou) in Wenling headquarters.
It has core technology development capabilities like industrial robot controller, servo driver, system software, reducer, main body design, machine vision and so on, always focus on industrial robot main body and core parts technology research and development. With leading technology competitiveness, it provides high-quality service for integrates with projects covering the full automation productions line, intelligent factory construction etc, and it is committed to providing customer with complete system solution and turnkey project.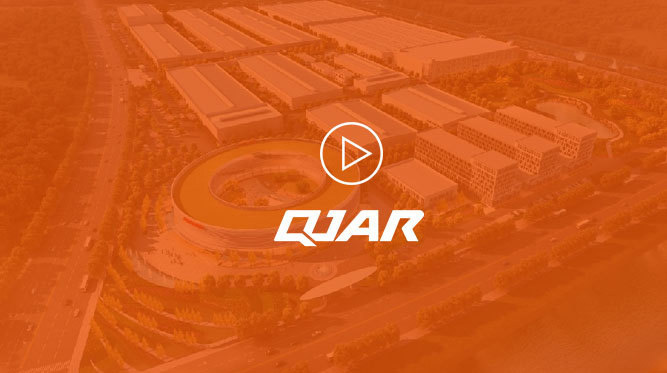 Qianjiang robot has leading research and development, production, testing facilities and conditions in China, with provincial key enterprise research institute of equipment and research conditions. It established a R&D center in Harbin and Shanghai to developing industrial robot controller, industrial Internet and machine vision research. Our headquarter have built main body, performance and application those three major laboratories, responsible for the technical research and development of industrial robot body and core parts. Equipped with a complete R&D, production, testing equipment, it can meet the requirements of design and manufacture of robot and intelligent equipment, inspection and test of robot and control system.
Qianjiang Robot cover standard industrial robots with payload from 3KG to 800KG, as well as some special application robots. It leading products include arc welding robots, polishing robots, loading and unloading robots, Delta type parallel robots, palletizing robots, handling robots, etc. It has achieved major breakthrough in welding, cutting, spraying, polishing, sorting, assembly, loading and unloading, palletizing etc., and have widely used in intelligent factory such as automobiles & aotorcycles, 3C, hardware, food and beverage, CNC machining etc. Qianjiang robot has been leading the forefront of high-quality industrial robot in China and accumulated a wide range of customer base and good market reputation.
China welding association had set up welding training base (Taizhou) in Wenling headquarters
It plans to expand the R&D and production factory which can make 20,000 industrial robots, covering an area of 664 Mu (443000 square meter) and building area of 270,000 square meters, the total investment about 1.11 billion China Yuan
ASD use $137 million to acquire 39% of Qianjiang Robot;Leading "Made in Zhejiang" standards;2019 sales quantity increase 50% compare to the same time in last year
Each province set up offices, Hangzhou branch was established;The first Qianjiang teaching pendant passed the CE certification, CR certification
With 51% stake, ASD is Qianjiang Robot's largest controlling shareholder
Qianjiang robot developed the first arc welding robot
Qianjiang robot was formally established and founded Zhejiang Industrial Robot Research Institute
Cooperation with Haribin Institue of Technology team, to development the industrial robot. Qianjiang first-generation controller mass production, launched the first welding process package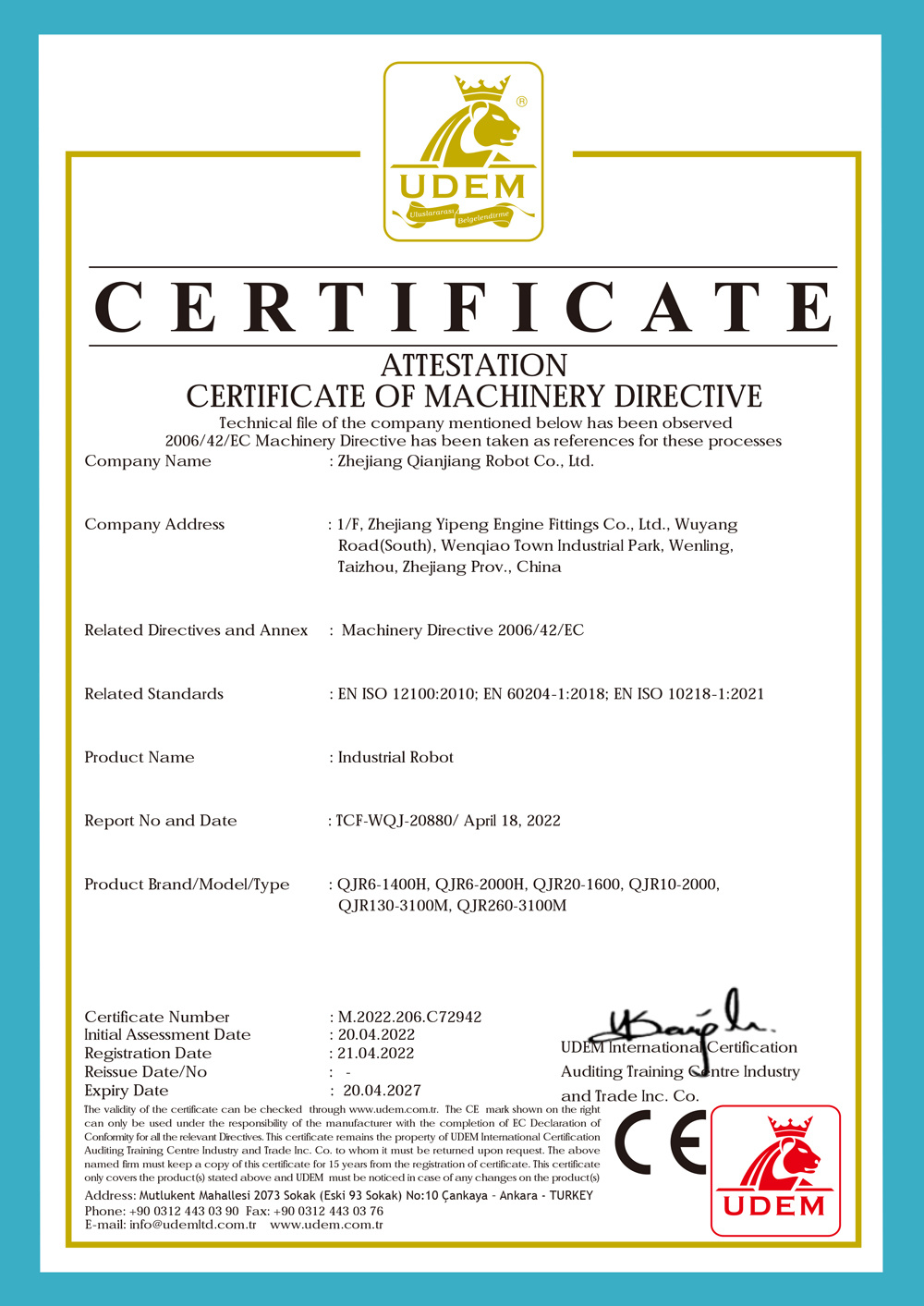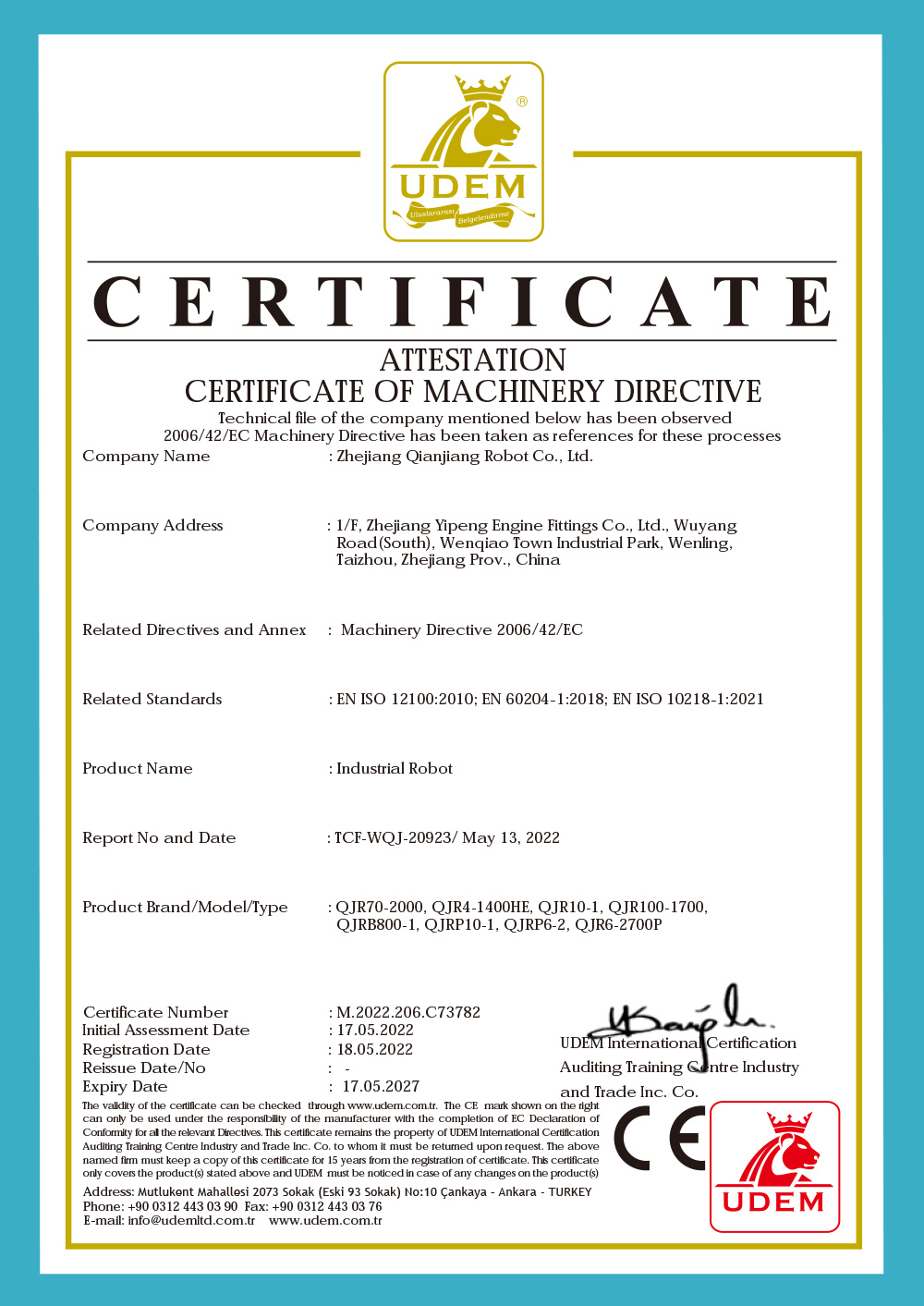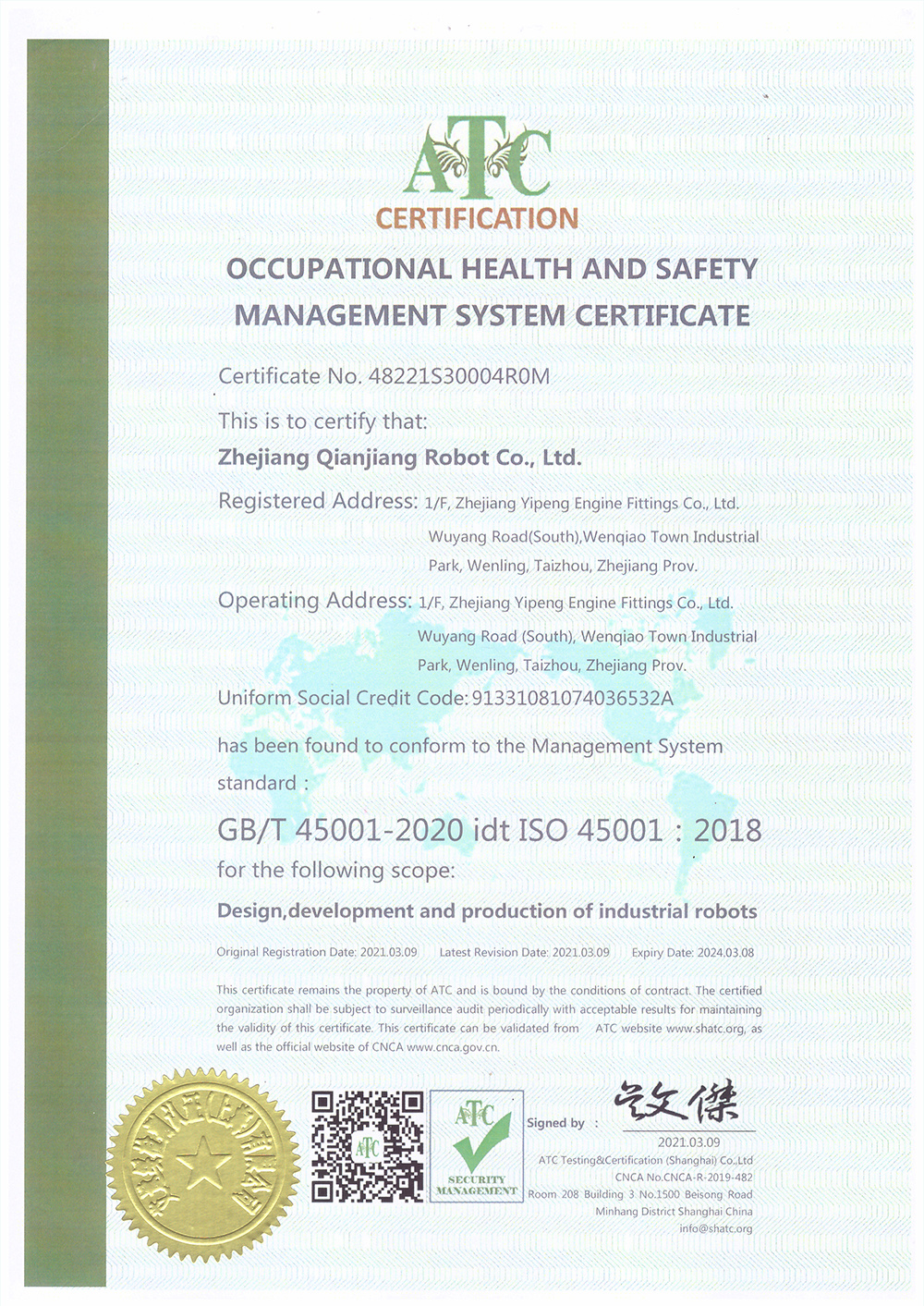 Address: NO.2, 5th Street, East Industry Center, Wenling City, Taizhou City, Zhejiang
Focus on QJAR
Trill
---
Copyright © 2022 Qianjiang Robot Co., Ltd. All Rights Reserved. SEO